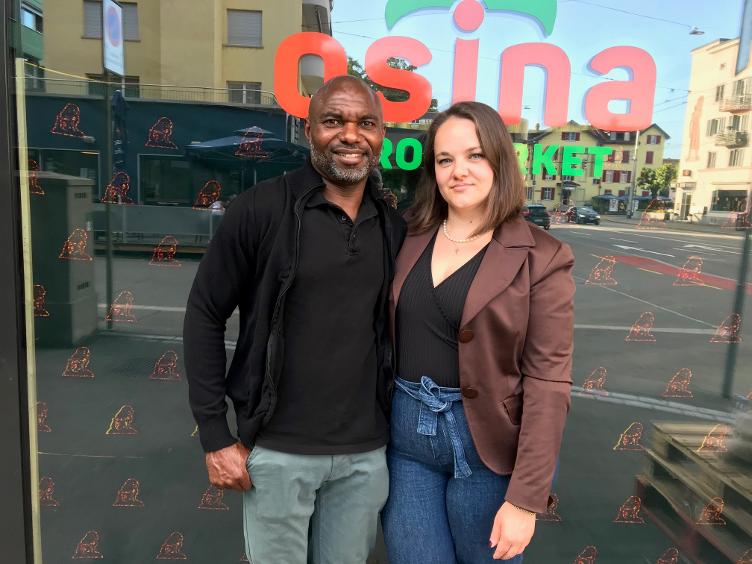 The story of a passion
The love of the homeland, the longing for authentic African food, the absence of an African grocery store in Winterthur were the decisive factors that led to the creation of Osina Afro Market. The company was founded in 2016 with headquarters in Winterthur. Our subsidiary Osina GmbH Ldt. Nigeria is located in Lagos and does a large part of the local purchasing in Nigeria.
The entire African continent is so rich in fresh fruits, healthy vegetables, the best nuts, special beers, delicious fish and so much more. Our vision is to represent the diversity and beauty of this continent in Winterthur. Back to the roots In Switzerland, we want to reconnect people from the African continent with their homeland. Many people eat less and less of their domestic food abroad because it is difficult to buy it or the quality is poor. One customer said that since Osina Afro Market has existed, he has been cooking his food from home again. That was one of the best compliments.
African cuisine
Africa is a continent of 30 million km2, populated by more than 800 million people, Africa has a variety of vegetation. From the rainforest to the savannah, the variety of soils and climates offers a great variety of African cuisine. A festival of colours, smells and flavours in African cuisine is associated with ancient knowledge and traditions. The African dishes are variations of cereals, leaves, nuts, seeds, roots, tubers, vegetables, fruit, etc. Outside of Africa the products and the extensive knowledge about the many extremely healthy foods are little known. Our goal is to rediscover African cuisine and bring it closer to European consumers. While discovering the African cuisine, you will also discover the history, the cultures and the heart of Mama Africa.
Our products
Strengthening Africa is a great concern of ours. For this reason we import many products directly. Thus the money flows directly into the Nigerian economy and creates jobs. But we also sell local products, such as goat meat, flambéed with skin to African tastes. Take a look at our wide assortment in the shop. Nothing is impossible If you miss any products in our shop - let us know and we will try to organize them for you.

Wholesale & Catering
Would you like to buy larger quantities? Please contact us, we have good conditions.
Are you looking for a suitable catering for your party or would you like to offer something completely different? we make the difference! Do not hesitate and contact us.